School Programs

Offering curriculum specific programs for grades JK – 12
Why study shoes? Although feet are the same around the world, what people choose to wear on their feet is incredibly diverse. It is in this diversity that some of the most interesting aspects of culture are revealed. Because of this, a field trip to the Bata Shoe Museum can enrich learning in almost any subject area. We offer a variety of programs for grades JK – 12 with links to many strands within the Ontario curriculum.  We can accommodate up to 50 students for guided programs.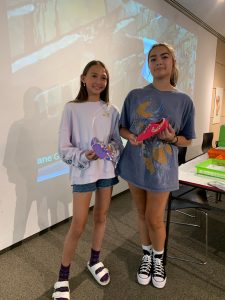 Curriculum School Based Tours
A field trip to the Bata Shoe Museum can enrich learning in almost any subject area. We offer a variety of programs for grades JK-12 with links to many specific strands in the Ontario Curriculum.
Guided programs are available for groups ranging up to 50 students from 10am to 4pm Monday through Friday. We suggest allowing 30 minutes after your guided tour for supervised discovery of the rest of the museum.
Includes a gallery visit, plus a Hands-On Collection, where students get to handle and examine museum objects up close. Kindergarten programs also include a try-on shoe session.
Secondary level students participate in a 1 hour guided tour. Teachers may request a 30 minute guided tour combined with a 30 minute Hands-on Hands-On Collection.
These highly participatory tours engage students in conversation, encourage questions, and give learners an opportunity to practice their language skills. This 1 hour guided program includes a gallery visit and a Hands-On Collection.
Who says you can't touch at the Museum! Enhance your visit with multisensory and tactile experiences through our Hands-on program. Your students will get to examine objects up close while experienced guides explain the fascinating stories behind the shoes. Tactile experiences benefit kinesthetic learners, and help communicate key information to English Language Learners and those with low vision. Hands-on Artefact Collection are available for all grades upon request.
Self-guided visits with groups of 10 or more students are asked to book their visits in advance. Our BSM learning staff can make recommendations of approaches you can take with your class while visiting the museum. We recommend a maximum of 90 minutes for a self-guided visit.
Paint-a-Clog workshop

Extend your visit to 90 minutes with our popular Paint-a-Clog workshop. Each student receives a miniature clog imported from the Netherlands to decorate and take home. There is an additional charge of $8 per student for this option.


SHOEBOX BINGO with the BSM
As North America's only shoe museum dedicated to showcasing 4,500 years of footwear history, the museum holds close to 15,000 shoes and related items in the collection that inspire our exhibitions, programming and educational offerings. One important way that we connect with school groups is through our hands-on collection. A new initiative that we've started blends virtual learning with fun – Shoebox Bingo with the BSM! Offering classes the opportunity to see a variety of amazing footwear up close and learn the stories behind them through play, the experience helps spark the imagination, develops inquisitive minds and offers an enriching learning environment that can fit curriculums at a variety of age levels. You can see the program by viewing the video below. If you'd like to book a session or have any questions, please email yvette.brown@batashoemuseum.ca.
Pricing
Curriculum School Based Guided Tours
Student ( Up to age 17 )
$6
Teachers
Free
1 support staff for every 10 student
Free
Other support staff/volunteer
$14
Clog Painting
$8 each
How to Book
To book a field trip, please contact Yvette Brown, Head of Education, (416) 979-7799 x228 from 9am to 5pm Monday to Friday, or by email yvette.brown@batashoemuseum.ca.

Field Trip Information
Once you have made your booking, we offer you one free admission to the museum to prepare for your field trip. Contact the education department for further information.
When You Arrive
Enter through the revolving door located on Bloor Street. Educators are asked to proceed straight to the Admissions Desk for registration and payment, located across from the front entrance.
Museum Guidelines
Flash photography is not permitted in the galleries
Food (including gum) and drinks are not allowed in the galleries
Pencils only; no pens
Please turn your cell phone to vibrate or silent during guided programs
Students must be accompanied by an adult at all times
Parent chaperones accompanying school groups are expected to assume an active supervisory role.
Lunchroom
School groups may also reserve the use of the lunchroom. The lunchroom allows seating for up to 48 people
Teacher Resources
Some of our past exhibitions are now available online.
Class Projects
Do you have a shoe related lesson plan or examples of student work that you would like to share with us? We would love to see them! Email to: education@batashoemuseum.ca

Matching Game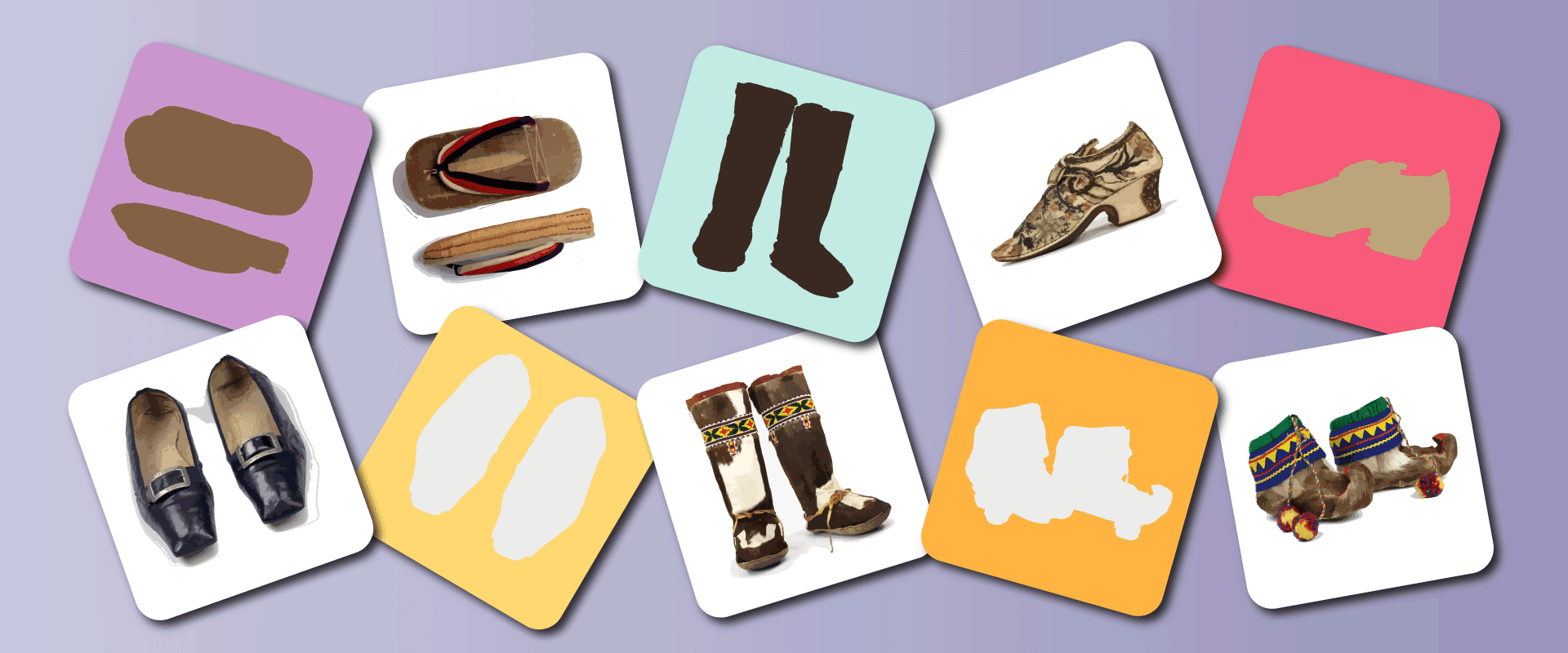 Test your knowledge and memory about our shoes. From boots to Zori. See if you can identify the patterns and match the descriptions. Drag the picture over to the matching description, once the image matches the description, both will disappear. Perfect to train your brain or just for fun. Enjoy fun pictures, while learning about various footwear from around the world.