The Art of Embroidery
April 17, 2021 @ 10:00 am

-

12:00 pm
Cost: $20/per person
Friends of the BSM: $15/per person
SOLD OUT
Thank you so much for your interest in the BSM's Virtual Workshop Series! Due to the overwhelming amount of participants, our The Art of Embroidery.. Stay tuned on our social media and website for new workshops every month!
This 2 hour virtual workshop will introduce students to some basic embroidery techniques to create an image of a whimsical 18th century shoe. Stitches taught will be stem, chain, French knot, back stitch, satin, closed herringbone, fly. We will include instructions on how to finish the embroidered piece into a pocket front for a shoe bag.
This workshop will take place via Zoom. All participants are required to source their own equipment needed for this workshop. Please see below for details.This workshop will be recorded and may be used by the Bata Shoe Museum for internal purposes only. If there are any questions or concerns, please email adrienne@batashoemuseum.ca.
PURCHASE YOUR TICKETS HERE:
Workshop Tools & Materials
White or light neutral cotton fabric, approximately 10″ X 9″
Optional – factory cotton/muslin piece approximately 1″ larger than main for backing fabric
Floss in following colours (Colour choices are a guideline only. Students are encouraged to use their own stash.):

dark grey (DMC 413)
medium pink (DMC 3716); dark pink (DMC 3806)
light green (DMC 472); medium green (DMC 471); dark green (DMC 469)
light blue (DMC 3765); medium blue (DMC 598)

Embroidery needle, scissors, 4″ hoop (strongly recommended)
Small, decorative button, 5mm or bead
45″ of cord or ribbon for drawstring
0.4m each of 2 fabrics for lining and exterior of the shoe bag (i.e two pieces 12″ X width of the fabric)
FAQ
Will a template be provided?
Upon registration, you will receive an email confirmation which will give you access to the template. If you did not receive it, please email Adrienne at adrienne@batashoemuseum.ca
ABOUT THE INSTRUCTOR:




Diane Scott has been a member of EAC since 1997 when she was introduced to the threaded needle and all its possibilities while living in Nova Scotia, and joined the Marigold Guild of Needle Arts. She joined the Toronto Guild of Stitchery in 2011 and has served as Program Director, Vice President and then President of the organization. She is currently Past President. Diane has also served as Course Manager and Treasurer for EAC.
Diane is an accomplished stitcher in various techniques, but she especially likes canvaswork. She has had a variety of teaching opportunities in Canada. She has taught several original projects at the Marigold Guild's annual retreat, and has taught several in-house workshops there. She has also taught at the Creativ Festival in Toronto and at Fibre Potpourri in Olds, Alberta. She was able to step in to teach an EAC Seminar class in Calgary 2015 to pinch hit for a health emergency. She has taught at Rock, Needle, Scissors, EAC Seminar 2017, and will be teaching at EAC virtual Seminar 2021.
Her approach to communication is factual and logical. She believes you don't need to speak often if you speak with purpose. She is a quick thinker and a great listener. The East Coast lifestyle is something the family has learned to value. Learning is a lifelong activity, and life has so much to appreciate.
ABOUT THE DESIGNER: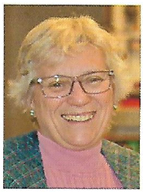 Pat has stitched since childhood, expanding her horizons after discovering EAC and the Toronto Guild of Stitchery. She is an active member at the guild and creates many designs for the guild's benefit. She enjoys stretching herself and her class participants to explore new interpretations of traditional techniques. Nature and history remain strong design influences. She has been fortunate enough to share these with classes at Seminars and individual guilds.
Passion can be truly infectious and she hopes to share her passion with others.
ABOUT THE ORGANIZATION:
The Toronto Guild of Stitchery was formed in 1975 to encourage and promote the practice of embroidery in all its forms. Our members enjoy a variety of techniques, including cross stitch, crewel, needlepoint, blackwork, whitework, Schwalm, Hardanger, pulled thread, drawn thread, stumpwork, goldwork, smocking, canvas work, mixed media, Japanese embroidery, and machine embroidery, among others. We welcome stitchers of all skill levels, from beginners to experts.
The Guild meets two days a month from September to June to share our knowledge and our love of stitching with each other. Our meetings have moved to virtual format until we can meet in person once again.
From its beginning, the Toronto guild has been a chapter guild of the Embroiderers' Association of Canada / l'Association canadienne de broderie (EAC). EAC is a national organization that focusses to preserve traditional embroidery techniques and to promote new challenges in the art of needlework.