The Salon Series VIII
April 21, 2021 @ 7:00 pm

-

8:30 pm
Exploring the impact of 18th century issues today and beyond.
We are so excited to announce our next Salon Series guest ~ Dr. Charmaine A. Nelson.
Black Body Politics and Self-Care: Slave Dress as Resistance in Caribbean and Canadian Slavery
In the early nineteenth century, John Colthurst, an Anglo-Irish special magistrate in St. Vincent, described the public humiliation of an enslaved black woman named Dutchess in his journal. Ordered to report to the local courthouse for the alleged crime of stealing money, Dutchess was ridiculed for the nature of the fine "wearing apparel" which she had purchased including "two pairs of pink satin shoes", clothing which the local whites deemed to be incongruous with her racial, sex, and gender identity.
Please join us as Dr. Charmaine Nelson explores slave dress, cultural preservation and self-determination in Canada and British Caribbean islands like Jamaica and St. Vincent. Recuperating the histories of three enslaved black women named Dutchess, Florimell, and Cash, and one enslaved black man named Andrew, Nelson will look at how they acquired the means and materials to adorn, protect and beautify their bodies in the midst of endemic material deprivation, cultural prohibitions, economic disenfranchisement and pervasive physical violence. Drawing upon Rebecca Earle's concept of "clothing acts," the lecture will examine genre studies, portraiture, and fugitive slave advertisements to explore the spaces between the imposition of cloth rations in tropical planation regimes like Jamaica, the use of European second-hand clothing in Canada and the preservation of African cultural dress practices like headwrapping across the Americas.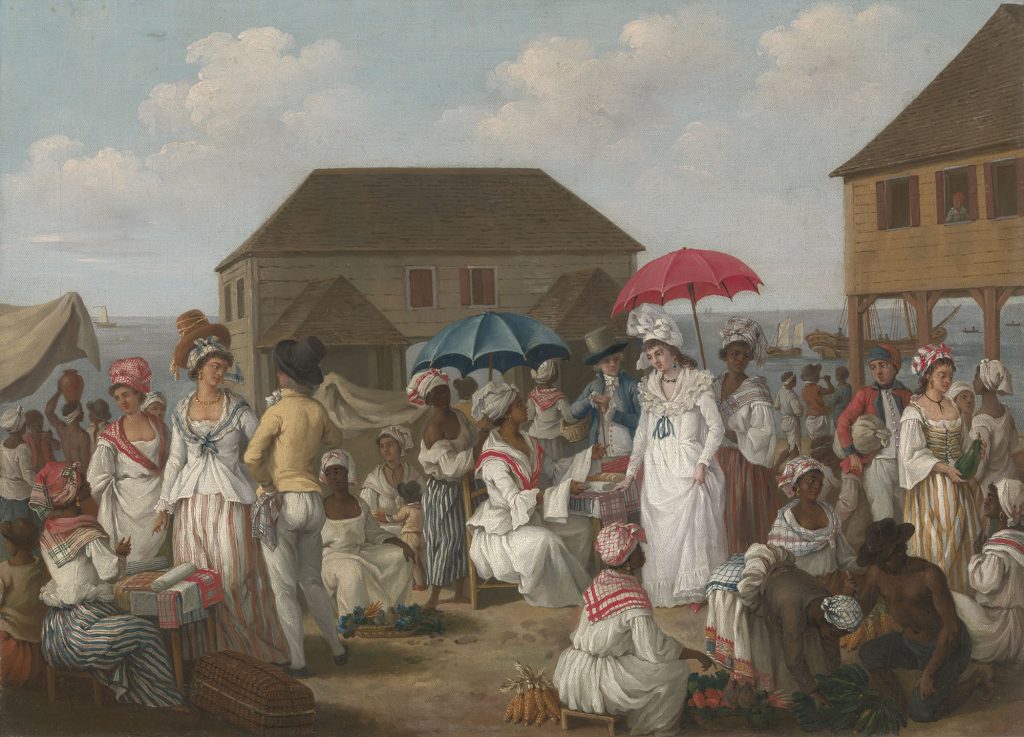 ABOUT THE GUEST SPEAKER
Dr. Charmaine A. Nelson is a Professor of Art History and a Tier I Canada Research Chair in Transatlantic Black Diasporic Art and Community Engagement at Nova Scotia College of Art and Design (NSCAD) University in Halifax, CANADA where she is also the founding director of the first-ever institute focused on the study of Canadian Slavery. Prior to this appointment she worked at McGill University (Montreal) for seventeen years. Nelson has made ground-breaking contributions to the fields of the Visual Culture of Slavery, Race and Representation, and Black Canadian Studies. She has published seven books including The Color of Stone: Sculpting the Black Female Subject in Nineteenth-Century America (2007), Slavery, Geography, and Empire in Nineteenth-Century Marine Landscapes of Montreal and Jamaica (2016), and Towards an African Canadian Art History: Art, Memory, and Resistance (2018). She is actively engaged with lay audiences through her media work including ABC, CBC, CTV, and City TV News, The Boston Globe, BBC One "Fake or Fortune," and PBS "Finding your Roots". She blogs for the Huffington Post Canada and writes for The Walrus. In 2017, she was the William Lyon Mackenzie King Visiting Professor of Canadian Studies at Harvard University.