Flat Stitch: Embroidery Beadwork
February 20, 2021 @ 10:00 am

-

12:00 pm
Cost: $20/per person
Friends of the BSM: $15/per person
Facilitated by Métis designer Justine Woods, this workshop will introduce participants to the historical and contemporary use of Indigenous beadwork in Canada. The hands-on portion of this workshop will offer participants the chance to learn beginner techniques of flat stitch, an embroidery beadwork technique commonly used to adorn moccasins and other pieces of clothing.
This workshop will take place via Zoom. All participants are required to source their own equipment needed for this workshop. Please see below for details. This workshop will be recorded for internal purposes at the Bata Shoe Museum. If there are any questions or concerns, please email adrienne@batashoemuseum.ca.
Sold Out
Thank you so much for your interest in the BSM's Virtual Workshop Series! Due to the overwhelming amount of participants, our Flat Stitch: Embroidery Beadwork workshop is sold out. If you'd like to learn more about Justine Woods and her upcoming workshops, please visit her website. Stay tuned on our social media and website for new workshops every month!
PURCHASE YOUR TICKETS HERE:
ABOUT THE HOST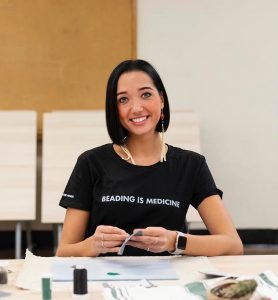 Justine Woods is a Métis interdisciplinary designer based in Tkaronto in what is known as Canada, and is from the Georgian Bay Métis Community. She is a current Master of Design Candidate at OCAD University and holds a Bachelor of Design in Fashion Design from Ryerson University where she specialized in bespoke tailoring and garment construction. Justine has showcased her work both locally and internationally at Graduate Fashion Week in London, England and is a Canadian Arts and Fashion Awards nominee.
Justine's design practice involves garment-based work with focus on Indigenous clothing adornment practices. Her research and design work investigates the ways Fashion can facilitate, activate and mobilize cultural resurgence, specifically positioned through an Indigenous feminist lens. Her work is greatly informed by her identity as a Métis woman and the deeply rooted relationships she has to her ancestral land.
Workshop Tools/Materials Needed
Your choice of clothing/footwear to bead
Size 10 Czech seed beads (Recommended: Assortment of 3-4 colours per kit)
No. 11 gold eye (shorter and more durable) or No. 13 silver eye (longer and easier to string on beads) beading needles
Nymo 'D' beading thread
Stiffened beading felt (preferably white, but any colour will do)
A beading mat (Optional – they can be easily found at any craft store or on Amazon)
Some online beading/craft retailers:
FAQ
Will Justine be providing a template for us to use?
Yes! You can access the template here but we do not want to limit your creativity and you are more than welcome to use your own design.
Do you have any recommendations on what kind of clothing/footwear to use?
We would suggest espadrilles or moccasins, or a piece of clothing that is made out of a medium-weight or heavy-weight fabric.