All About Shoes

Footwear Through the Ages
Semi-Permanent Exhibition
Take a fascinating journey and experience the many facets of footwear: its evolution and symbolism through the ages, the methods and materials of its manufacture and its place in our imaginations.
The BSM's flagship exhibition, All About Shoes: Footwear Through the Ages, is a voyage through four and a half millennia of shoes. As well as presenting an engaging overview of the history of footwear, All About Shoes also explores the wider context of our fascinating collection.

Behind the Scenes: A Glimpse into Artefact Storage
The Bata Shoe Museum currently holds nearly 15,000 shoes and related artefacts, spanning 4,500 years of footwear history. This extraordinary collection is central to the museum's mission and enables us to mount dynamic and changing exhibitions. With only four percent of the collection typically on view at any given time, the rest of our artifacts are maintained in two specially-designed subterranean vaults, which keep the collection safe and secure while facilitating research and conservation by staff and visiting scholars.  This section of the All About Shoes gives you a visitors a peek into this seldom-seen aspect of the museum's work.
Fashion Afoot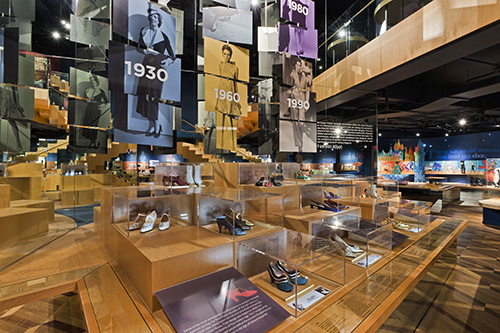 Fashion returns to the Bata Shoe Museum with an exciting area dedicated to style in our All About Shoes gallery:  Fashion Afoot, a compelling look at the development of fashion shoes in the 20th century.
No longer hidden beneath voluminous skirts, in the last century the shoe emerged as an essential fashion accessory. Its ascendancy in the fashion world also lifted the cloak of anonymity from the shoe designer. The result: from the 1920s, footwear visionaries profoundly influenced all elements of fashion – and became celebrities in their own right.  You will be able to see how much shoes changed. decade by decade, in response to design, politics, and social change.
What's Their Line?
Both fashion and function are explored in What's Their Line.
Offering an in-depth look at footwear with a purpose, What's Their Line features shoes that are both ordinary and extraordinary. The most practical reasons for donning specialized footwear have always been to protect feet from injury, to enable us to do a better or easier job, or to improve our performance. Around the world and throughout history, footwear has been designed in amazingly diverse ways to satisfy these needs.
Shoes that serve as tools are remarkable and fascinating inventions. No matter how limited the applications might be, appropriate footwear is essential in many jobs. And keep in mind that these seemingly ordinary shoes have altered the way we work, think and live over the past two centuries. Amongst our incredibly varied collection, chestnut-crushing clogs from France and sumo wrestler's geta from Japan are particularly unmissable!
Did you know that the BSM has a streaming audio guide for this gallery available to all visitors free of charge (in English and in French)?  Click here for more information.
For media requests please contact Adrienne Naval, New Media and Marketing Coordinator.
For image requests please contact Suzanne Petersen, Collections Manager/Registrar.
Some highlights from All About Shoes: