Obsessed:
How Shoes Became Objects of Desire
OBSESSED: How Shoes Became Objects of Desire will guide you through the story of how we have become a society obsessed with shoes. This exhibition features highly coveted shoes in our collection that represents how industrialization drove shoe consumption transforming footwear designers into celebrities and shoes into high value collectibles.

On view until April 2024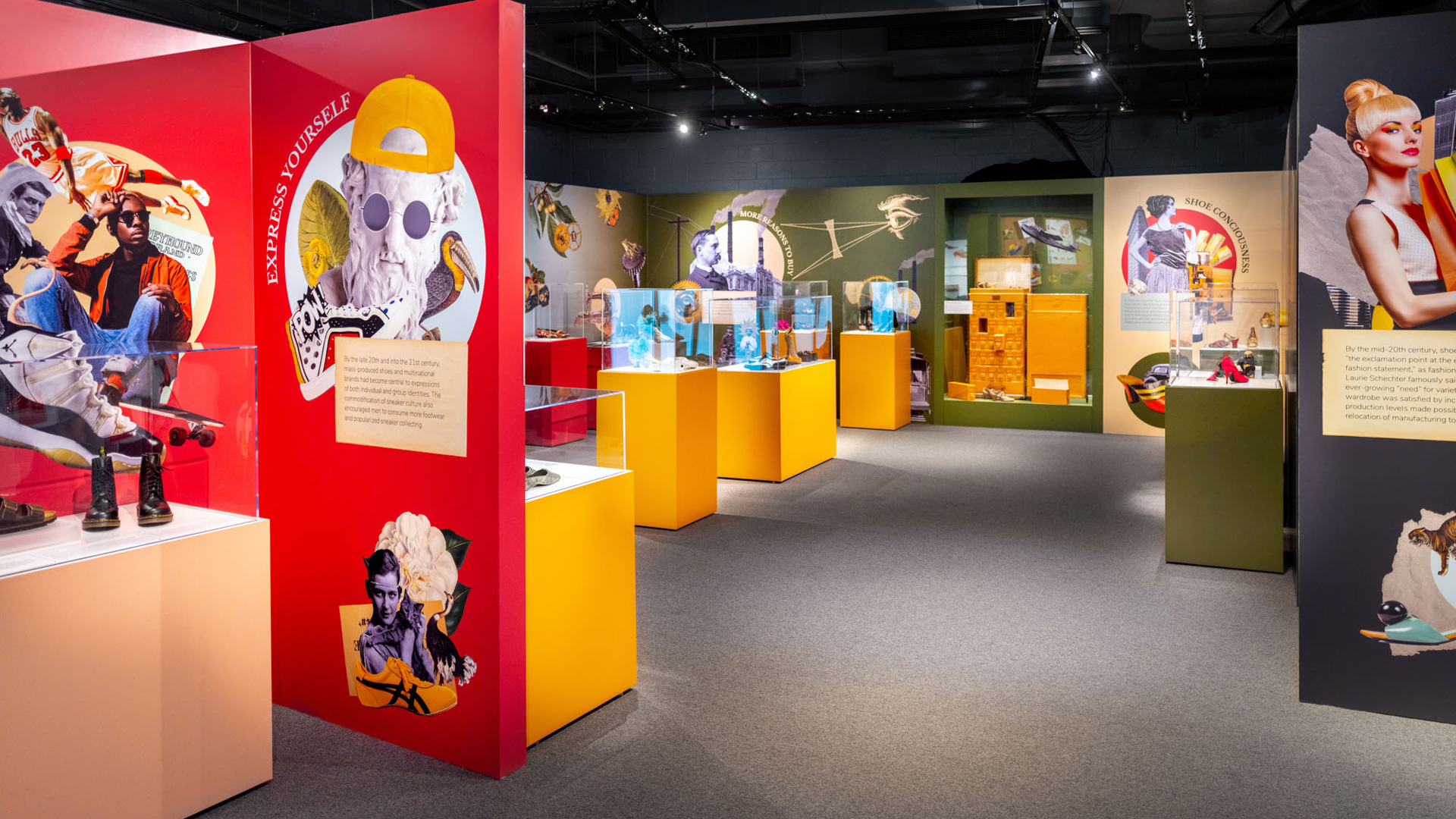 EXHIBITION HIGHLIGHTS
BOOSTING PRODUCTION
Before industrialization, an experienced shoemaker in the West made roughly two pairs of shoes or one pair of boots per day. In the 19th century, new techniques and innovations sped up production and significantly boosted output. As an increasing range of footwear became available, overall consumption grew, paving the way for shoes to become objects of obsession. Early 19th century "straights," for example, did not differentiate between "lefts" or "rights." Because straights required only one last per shoe size, making them cheaper and faster to produce.
MORE REASONS TO BUY
As industrialization progressed, new inventions, new materials, and new ideas enticed consumers with an expanding range of things to buy. One of the most exciting innovations of the 19th century was the creation of synthetic colours, especially aniline dyes made using coal tar extract. These brilliant purple shoes reflect the craze for that colour that emerged after 18-year-old chemist William Henry Perkins accidentally made synthetic purple while trying to find a new treatment for malaria.
A SHOE FOR EVERY HOUR
By the turn of the 20th century, fashionable or 'well-heeled' men and women required many different footwear styles. For those who could afford the luxury of travel, a Louis Vuitton shoe trunk was one way of traveling in style. This trunk features discreet compartments for thirty pairs of shoes.
ALL CONSUMING
By the mid-20th century, shoes had become "the exclamation point at the end of every fashion statement," as fashion director Laurie Schechter famously said and novelty found expression in shoe design. These Car Shoes were designed by Beth Levine, one of the most innovative shoe designers of the 20th century. Her wit found expression in almost everything she created.
EXPRESS YOURSELF
By the late 20th and into the 21st century, mass-produced shoes and multinational brands had become central to expressions of both individual and group identities. The fashion for cowboy boots in the early 1980s reflected a problematic nostalgia for the past. This pair of boots is by Santa Diego Boots.
BACK IN THE GAME
The intertwining of music, basketball, and sneakers began in New York in the 1970s and one of the most important sneakers was the Puma Suede. These 50th-anniversary Suedes were a collaboration with DJ, author, filmmaker, and member of the famous breaking and hip-hop group, the Rock Steady Crew, Bobbito Garcia.
Purchase tickets through ShowPass
BUY NOW
GOVERNMENT PARTNER