IN BLOOM
FLOWERS AND FOOTWEAR
One of fashion's most timeless inspirations, representations of flowers have appeared throughout the centuries to symbolize an assortment of expressions. From spring cherry blossoms as an awakening of new life and new beginnings to the fall-blooming chrysanthemum which symbolizes joy and happiness, floral motifs have been incorporated into textiles and footwear across the globe. Until the 19th century, most of these textiles were dyed using plant-based colours. Materials such as wood, cotton, cork, and grass have also been used to create shoes. Depending on the time and place, the language of flowers has held many unique interpretations. In Bloom: Flowers and Footwear explore the inspiration that nature has provided as a source of meaning and material for shoemaking across the ages.

Now On View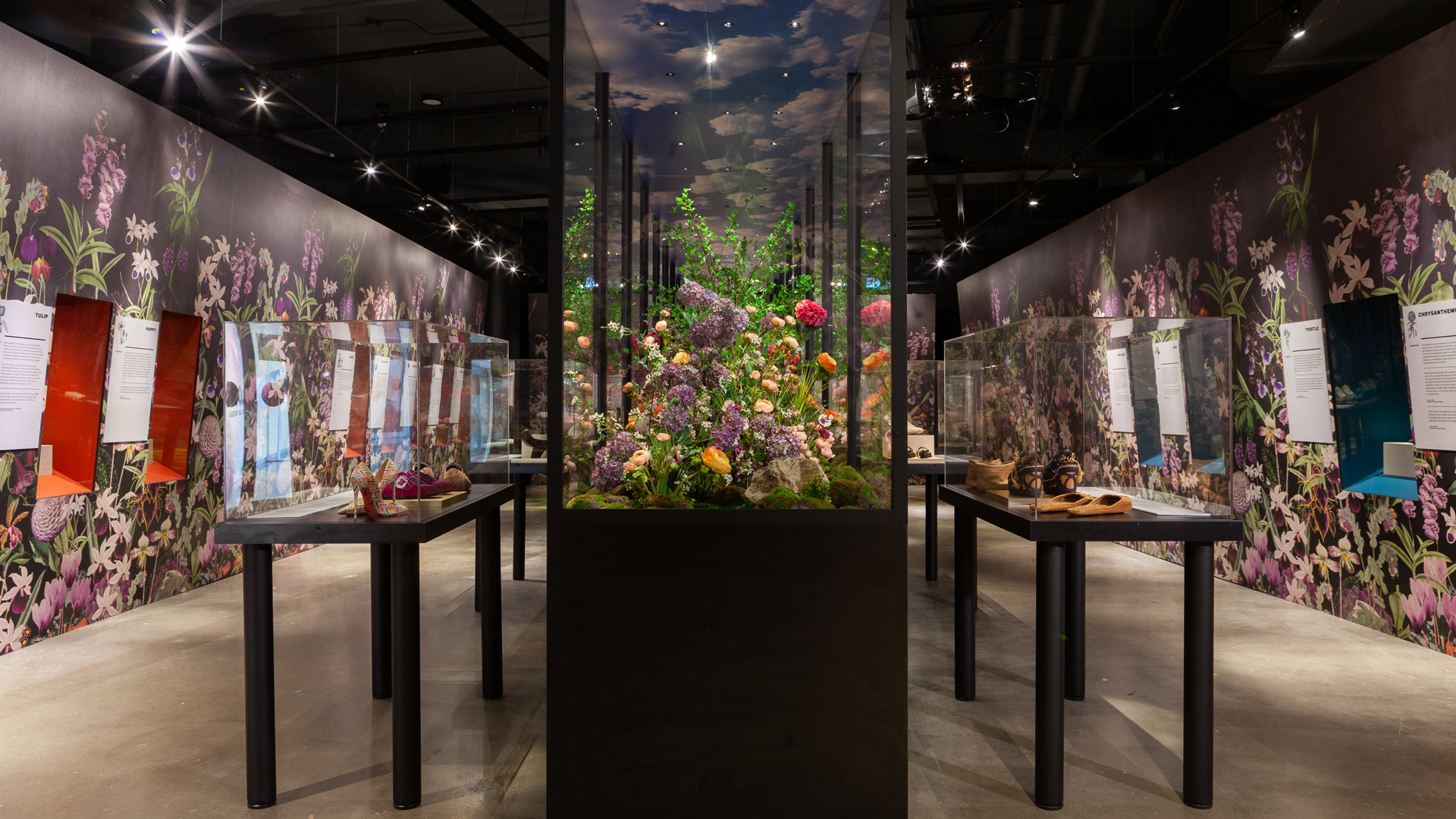 EXHIBITION HIGHLIGHTS
Manchu, second half of the 19th century.
These tall Manchu platform shoes have "flower pot" pedestals and are decorated with cherry blossoms. In China, because cherry blossoms bloom in the spring they can signify new life and new beginnings and their long branches symbolize longevity.
Italian, 1988.
In 1988, Italian shoe designer Andrea Pfister created this playful mule which features poppies across the vamp. The poppy's large and colorful red flowers have made it a popular motif in fashion.
Peranakan, probably 1920s.
Heavily beaded mules are a longstanding part of Southeast Asian Peranakan wedding attire. This pair features lush pink peonies and butterflies done in detailed beadwork.
Korean, 1900-20.
These delicate cotton socks feature colorful floral embroidery and pink tassels at the toe. Known as taraebeoseon, this style would have been worn by an infant before the age of three.
Colonial American/English, c. 1760–1770.
These shoes are made of a silk brocade fabric that includes pink and red roses. Floral motifs were hugely popular in 18th-century Euro-North American women's fashion, and floral dresses often had matching shoes.
Canadian and American, 2022.
This pair of Air Jordan 1s is customized by Canadian sneaker artist Vicky Vuong, who designed them to honor her grandmother and celebrate her Asian heritage. Vuong's hand-painted design featuring peonies was inspired by the florals often found on Chinese porcelain.
North American or French, late 1930s to mid 1940s.
During World War II many countries restricted the use of traditional shoemaking materials such as leather and rubber. Shoemakers throughout Europe and North America turned to cork and grass for fashionable women's footwear including platforms.
Purchase tickets through ShowPass
BUY NOW
Government Sponsor