Learn More
On view until Sept. 29, 2023
Future Now
VIRTUAL SNEAKERS TO CUTTING-EDGE KICKS
Future Now: Virtual Sneakers to Cutting-Edge Kicks explores over fifty futuristic footwear designs from the auto-lacing Nike MAG to the virtual RTFKT x Staple Meta-Pigeon. It considers how cutting-edge technologies, unexpected materials, and new ideas are transforming footwear today. This provocative exhibition includes digitally designed and 3D printed shoes, sneakers made from mushroom leather and reclaimed ocean plastics, as well as footwear created for the metaverse. Featured designers and brands include: Salehe Bembury, Steven Smith, RTFKT, Mr. Bailey, Zaha Hadid, D'Wayne Edwards, Nike ISPA, Safa Şahin, Tom Sachs, EKTO VR, Saysh, Benoit Méléard, SCRY, Yeezy, and many more.

On view until Sept. 29, 2023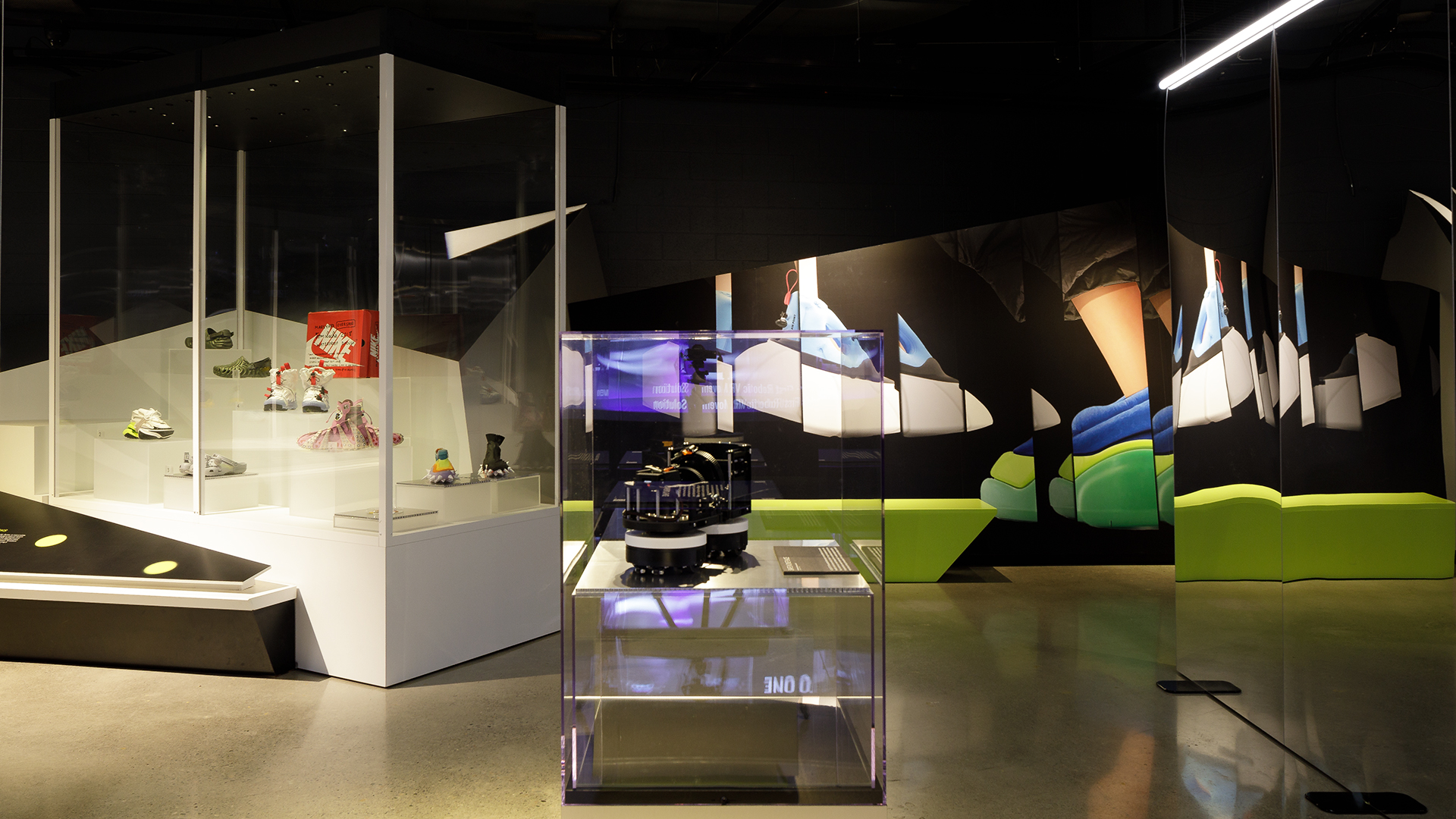 HIGHLIGHTS FROM THE EXHIBITION
Auto-lacing
The dream of auto-lacing footwear—shoes that automatically lace when put on—began in 1989 when the character Marty McFly from the film Back to the Future II wore a pair of auto-lacing Nike MAGs designed by Tinker Hatfield. Although the shoes featured in the movie were just props, Nike worked over the decades to realize the dream and today offers a range of auto-lacing shoes. In 2012, batteries strong enough yet small enough to power auto-lacing became available, and after years of research auto-lacing became a reality.
Start A Riot
In 2005, Jeff Staple designed the Nike Dunk SB Low Staple NYC Pigeon. When it came time for the sneakers to drop, Staple had 150 pairs to sell in his New York City shop. Unable to meet the demands of so many customers, the first sneaker riot ensued. In 2021, he jumped at the chance to reimagine the Pigeon as both an NFT and a set of "forged" physical sneakers.
Moulded
Over the years, United Nude has partnered with a number of avant-garde designers and architects to create strikingly sculptural footwear. In 2013, Rem D. Koolhaas and renowned architect Zaha Hadid collaborated on the NOVA. The complicated design called for the platform and heel wedges to be made out of vacuum-casted fiberglass. The seamless uppers were rotation moulded in vinyl that was then chromed. The NOVA was the first shoe to ever be made using rotation moulding.
3-D Printed
3-D printing, an innovation that is only now revolutionizing footwear production, was invented in the 1980s. What was so revolutionary about this approach was that it allowed complicated designs to be built up, as opposed to carved out of a material. This process results in less waste and can achieve remarkably intricate designs without the cost of molds. SCRY is dedicated to disrupting traditional shoemaking by working digitally from design to fabrication. Co-founder and designer Zixiong Wei exploits the possibilities of 3-D printing to create footwear with a markedly sci-fi aesthetic. Shadow was their first release in 2021.
Breaking The Mould
In 2021, renowned designer Salehe Bembury left Versace to pursue more independent projects such as his collab with Crocs. Bembury was the first designer Croc allowed to "break the mould" and reimagine the traditional Crocs silhouette. Inspired by his own finger print, Bembury changed the Croc's form and shape, giving it a seemingly undulating surface and creating one of the year's most sought-after shoes. Bembury's creation of his own brand reflects the increasing importance visionary sneaker designers are garnering.
Recycled
Recycling is a mainstay of sustainability and sneaker manufacturers are increasingly finding ways to reuse materials that they previously might have discarded. F_WD, pronounced forward, was founded by Onward Luxury Group in 2019 as a streetwear brand dedicated to sleek sustainability. Its first collections were created by the Seoul-born, Paris-based shoe designer Raphael Young whose futuristic designs were vegan, PETA (People for the Ethical Treatment of Animals) approved and made of recycled and recyclable materials.
Cryptokicks
CryptoKickers was started by William Flynn and Thomas Dimson in 2021 to make "custom heat for your metaverse feet." One of the early offerings was the metaverse's first signature shoe, the Wilson Chandler 1. Professional basketball player Chandler had gotten into cryptocurrency via friends he met playing Fortnite, and it was a natural progression for him to create a limited edition collab sneaker with CryptoKickers. The twenty-one pairs of NFT Chandler 1s were released on April 21, 2021.
Transformative
Independent designer Daniel Bailey, aka Mr. Bailey, is responsible for some of the most avant-garde sneaker designs seen in recent years, and his online platform, CONCEPTKICKS, highlights and encourages innovation in footwear design. Bailey's Octopus shoe, created for Takashi Murakami's ComplexCon exhibition "Sneakers for Breakfast," is a complex but wearable design featuring a tentacle-inspired sole that rises up to create the upper.
Purchase tickets through ShowPass
BUY NOW
Contributing Sponsor
Government Partner
Hotel Partner
Media Partners