About Black History Month

During Black History Month, people in Canada celebrate the many achievements and contributions of Black Canadians and their communities who, throughout history, have done so much to make Canada a culturally diverse, compassionate, and prosperous country.
Black history in Canada
Black Canadians and their communities have been a part of shaping Canada's heritage and identity since the arrival of Mathieu Da Costa, a navigator, and interpreter, whose presence in Canada dates back to the early 1600s.
The role of Black people and their communities in Canada has largely been ignored as a key part of Canada's history. There is little mention that some of the Loyalists who came here after the American Revolution and settled in the Maritimes were people of African descent, nor the fact that many soldiers of African descent made many sacrifices in wartime as far back as the War of 1812.
Few people in Canada are aware of the fact that African people were once enslaved in the territory that is now known as Canada, or of how those who fought enslavement helped to lay the foundation of Canada's diverse and inclusive society.
Black History Month is a time to learn more about these Canadian stories and the many other important contributions that Black Canadians and their communities have made to the history and continued growth of this country.
Recognizing Black History Month in Canada
In 1978, the Ontario Black History Society (OBHS) was established. Its founders, including Dr. Daniel G. Hill and Wilson O. Brooks, presented a petition to the City of Toronto to have February formally proclaimed as Black History Month. In 1979, the first-ever Canadian proclamation was issued by Toronto.
The first Black History Month in Nova Scotia was observed in 1988 and later renamed African Heritage Month in 1996.
In 1993, the OBHS successfully filed a petition in Ontario to proclaim February as Black History Month. Following that success, Rosemary Sadlier, president of the OBHS, introduced the idea of having Black History Month recognized across Canada to the Honourable Jean Augustine, the first Black Canadian woman elected to Parliament.
In December 1995, the House of Commons officially recognized February as Black History Month in Canada following a motion introduced by Dr. Augustine. The House of Commons carried the motion unanimously.
In February 2008, Senator Donald Oliver, the first Black man appointed to the Senate, introduced the Motion to Recognize Contributions of Black Canadians and February as Black History Month. It received unanimous approval and was adopted on March 4, 2008. The adoption of this motion completed Canada's parliamentary position on Black History Month.
Source: https://www.canada.ca/en/canadian-heritage/campaigns/black-history-month/about.html
Additional Resources
Black History Month Committee – Creative Reflection Contest Submissions, Documentary/Media resources, Literary Resources, Podcasts, and more!
Black Leadership & Mentorship Programs – Black Mentorship Inc, The Black Leaders of Tomorrow, SparkThat Inc., Halton Black Voices
Government of Canada – Black History Month – About Black History Month, Significant Events in Black Canadian History, Black historical organizations and educational resources.
Centre for Equity and Inclusion – Reading for Equity, Diversity, and Inclusive Library Guide, Racial Harassment Brochure (OHRC)
City of Toronto Black History Month
Black History and Black Futures Month Events & Activities – Ontario (On Culture Days)
Black History Month activities (Toronto Public Library)
The Toronto Black Film Festival (online) – February 15-20, 2023
Black History Month Events – GTA (Eventbrite)
28 days of activities for Black History Month
To help students, families and staff celebrate Black History Month, the Peel District School Board is sharing 28 days of activities that can be done in the classroom or at home. We encourage people to share their activities on social media and use the hashtag #PeelBlackHistory. 28 days of activities for Black History Month – We Rise Together

15 Books to Read during Black History Month and Beyond
1.  The Dead Are Arising: The Life of Malcolm X by Les Payne and Tamara Payne
Over 30 years, Pulitzer Prize-winning journalist Les Payne spoke to anyone he could find who knew Malcolm X. What resulted is this incredible biography of the civil rights leader, which paints a portrait of Malcolm X unlike any other. The winner of the 2020 National Book Award for Non-Fiction, this biography is a must-read. Get it here or at your local bookstore.
2. Heavy by Kiese Laymon
In this memoir, Mr. Laymon writes about growing up in Jackson, Mississippi. He poignantly discusses his struggles with his weight, abuse and family, and contemplates the dynamics of race and America's fraught racial history on his life and the lives of those around him. Get it here or at your local bookstore.
3. Punching the Air by Ibi Zoboi and activist Yusef Salaam
Co-authored by Yusef Salaam, a member of the Exonerated Five and the Innocence Project's board of directors, this moving young adult novel tells the story of a wrongly convicted boy. Ms. Zoboi told NPR that the main character is inspired by Mr. Salaam because, "I write books for children, and I wanted the world to remember that Yusef was a child when this happened to him and I was a child as well."
4. Pushout: The Criminalization of Black Girls in Schools by Dr. Monique Morris
While arrests of girls between the ages of 13 and 17 have declined overall, Black girls are coming into contact with the juvenile justice system at disproportionately high rates. That has to do with the way society treats young Black girls, Dr. Morris argues. In this work of nonfiction, she examines the unique experiences of young Black girls in school, interrogating the ways in which today's schools and systems dehumanize and criminalize Black girls from an early age, leaving life-long impacts. 
5. All About Love: New Visions by bell hooks
Celebrated Black feminist writer and professor bell hooks frequently writes on the intersection of race, gender and society. But in All About Love: New Visions, hooks examines the foundation of love and the ways in which cultural norms have shaped how we love one another. In less than 200 pages, hooks lays out her framework for understanding love and becoming more open to giving and receiving love, and in doing so advancing justice and humanity. Get it here or at your local bookstore.
6. Another Country by James Baldwin
No list of great Black literature would be complete without Mr. Baldwin's work. In this 1962 novel, Mr. Baldwin paints a portrait of New York City's Greenwich Village and Harlem neighborhoods as he saw them. He challenges the characterization of New York City as a harmonious "melting pot," and instead highlights the ways in which continued racism can become internalized and affect interpersonal relationships. Another Country was criticized by many and banned in some places, including New Orleans and Australia, at the time of publishing. But, today, is considered an important and influential writing. Get it here or at your local bookstore.
7. Homegoing by Yaa Gyasi
In her first novel, Ghanaian-American writer Yaa Gyasi traces the details the slave trade's impact on two continents over eight generations. Focusing on two half sisters and their descendants, Homegoing highlights the ways in which the legacy of slavery has shaped race dynamics and changed lives over hundreds of years, and still does to this day. Get it here or at your local bookstore.
8. Those Who Know Don't Say: The Nation of Islam, the Black Freedom Movement, and the Carceral State by Garrett Felber
Garrett Felber examines the history of the Nation of Islam, a Black political and religious movement, and its struggle against policing and prisons as part of the Black Freedom Movement. The book also looks at the ways in which the Muslim community's organizing during the civil rights era paved the way for the modern-day prison abolition movement. Get it here or at your local bookstore.
9. Invisible Man by Ralph Ellison
"I am invisible because people refuse to see me … When they approach me they see only my surroundings, themselves, or figments of their imagination — indeed, everything and anything except me," Mr. Ellison wrote in Invisible Man. 
The novel follows the life of an unnamed narrator, a Black man who grows up in a small Southern town, attends a Black college, and moves to New York where his life takes a turn. The celebrated work of fiction considers issues of race and social structures still relevant today. Get it here or at your local bookstore.
10. The Warmth of Other Suns: The Epic Story of America's Great Migration by Isabel Wilkerson
Ms. Wilkerson's book draws its title from a poem by celebrated author Richard Wright, in which he wrote that he had left the South and moved to Chicago in the hopes of feeling "the warmth of other suns."
In Ms. Wilkerson's The Warmth of Other Suns, she tells the powerful, true stories of three Black Americans who, like Mr. Wright and millions of others, left the South between 1915 and 1970 to seek opportunity and freedom from Jim Crow rule elsewhere in the U.S. 
11–13. The Broken Earth Trilogy: The Fifth Season, The Obelisk Gate and The Stone Sky by N.K. Jemisin
In the first installment of Jemisin's sci-fi trilogy, Essun, the protagonist, must hide her supernatural abilities as she searches for her kidnapped daughter in an apocalyptic world where natural disasters occur regularly and without warning. If her abilities are discovered, she risks discrimination and even death. The three books in the series deal with themes of oppression, power and revolution. Ms. Jemisin became the first Black woman to win the Hugo Award, the most prestigious award for science fiction and fantasy writing, in 2016. She went on to win the prize the following two years for the subsequent installments of the trilogy. 
14. Sing, Unburied, Sing by Jesmyn Ward
Ms. Ward's novel is set in a fictional town in Mississippi, but much of it takes place in the very real Mississippi State Penitentiary, modeled after a slavery era plantation, and tells the story of a family impacted by mass incarceration, racism, drugs and poverty. Ms. Ward won the National Book Award for her moving book. 
15. Devil in the Grove: Thurgood Marshall, the Groveland Boys, and the Dawn of a New America by Gilbert King
This Pulitzer Prize winner recounts Thurgood Marshall's defense of four wrongly convicted Black teenagers — who became known as the Groveland Boys. The boys were wrongfully convicted of raping a white woman in Florida in 1949 and sentenced to death. This powerful book traces the case as it eventually makes its way to the Supreme Court and examines the impact of racial injustice on the town of Groveland and the lives of the Groveland Boys. 
Did you know?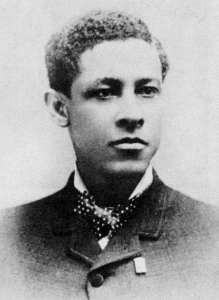 Jan Ernst Matzeliger (September 15, 1852 – August 24, 1889) was an inventor whose lasting machine brought significant change to the manufacturing of shoes. Learn More.