Uplifted: Art of Crochet Shoes
January 16, 2021 @ 10:00 am

-

2:00 pm
Cost: $20/person
Friends of the BSM: $15/person
Learn how to crochet for the first time or refresh your skills, while discovering innovative ways to create. We will explore the effectiveness of patience & wellness while learning new modalities from a place of silence and stillness in order to increase awareness of the mind, body & soul. Engage in dialogue to strengthen knowledge of upcycling and sourcing materials, in order to reduce waste and become more eco-friendly.
Legin Knits will take the time to discuss "the shoe" and gain a bit of knowledge about the history, the evolution and the Bata Shoe Museum. In this workshop, participants will learn how to crochet as well as techniques on how to customize their shoes with decorative crochet pieces using a 3-step customization process. No skills needed. All levels accepted from beginner to advanced.
This workshop will take place via Zoom. All participants are required to source their own equipment needed for this workshop. Please see below for details.
ABOUT THE HOST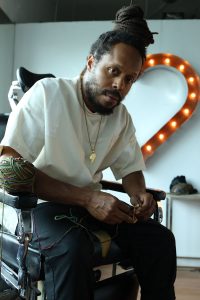 Nigel "Legin" John learned crochet from a Rasta man in San Fernando, Trinidad. His passion has allowed him to continue to grow, innovate, and expand his artistry through Legin Knits and Art Of Crochet. The focus on fashion is to make "Original" one of a kind pieces for collections and for personalized custom orders. He also adds crochet to already made items to renew into "Uplifted"(upcycled) pieces, giving them new life! Legin started teaching crochet to his friends and youth in his community immediately after learning. He felt the connection to passing this art form on, while building a business to open up opportunities for himself and others. When encountering individuals he taught, they always express their gratitude and strong belief that learning crochet gave them values that apply to their lives.
Workshop Tools/Materials Needed
1 pair of shoes where the crochet will be applied
Crochet Tools:
1 x crochet hook (Preferably sizes 3.50, 3.75, 4 or bigger)
1 or 2 balls of yarn (You have the more color options with more yarn)
Scissors
Hand Sewing Tools:
1 or more sewing needles (Always good to have a few extra, just in case)
1 x or more colors of All Purpose Sewing Thread
1 x Thimble (not rubber)
1 x Long nose pliers
Where to get your items:
We would like you to support local business! Our Partners at Romni Wools have made it easy for you.
Go to leginknits.com "Shop" page and select our "AOC Kit" to get all of the essential Crochet tools and Hand
sewing tools.
You may already have most of the tools needed at home already! So for a variety of yarn options and crochet hooks contact: Rachel @romniwools. You can DM on Instagram, email info@romniwools.com or call (416) 703 – 0202.
Delivery/Pick Up Options
You can arrange curbside pick up
Delivered to your doorstep! (For delivery please order well in advance. Give yourself at least 5 business days)
Tell them Legin sent you and receive 10% off.