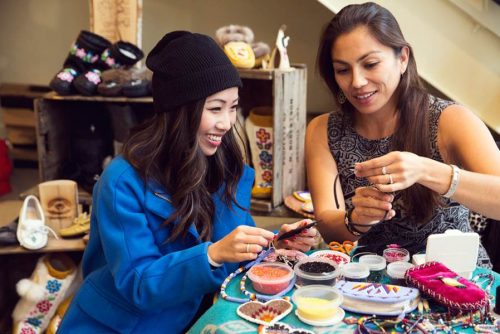 The Bata Shoe Museum in Toronto, Canada has entered a unique partnership that combines education and cultural tourism with its long-standing commitment to document, conserve, collect, exhibit and promote indigenous footwear of North America. Working with Manitobah Mukluks and TreadRight Foundation, the museum will host a semi-permanent 'Storyboot School' that teaches the heritage art of mukluk-making to local indigenous students, while also introducing the art and culture to visitors. The project will also permit Storyboot artisans from across Canada to display and sell their mukluks at the museum.
Storyboot School originated with Manitobah Mukluks, a Winnipeg-based, Aboriginal-owned retailer of handcrafted mukluks and moccasins. Its goal is to keep the art of mukluk and moccasin-making alive and accessible, and to inspire the next generation of Indigenous crafters and artists. Aboriginal students will have the opportunity to see mukluks from the Bata Shoe Museum collection and interpret traditional designs in their own contemporary ways.
TreadRight Foundation, created and supported by The Travel Corporation looks to foster authentic cross-cultural exchange by supporting artisan enterprises that engage in the creation of handmade and culturally significant products through its TreadRight Heritage Initiative. Their travel groups will learn about mukluk-making from the Storyboot school teacher and engage with the students. Visitors to the Bata Shoe Museum will have the same opportunity.
In the words of Tara Barnes of Manitobah Mukluks, "To do ethical travel in Canada you have to walk alongside its indigenous people. This is a way for visitors to make contact with a real life practitioner of a living art rather than just reading about it on a museum wall." The Bata Shoe Museum is enthusiastic to include these new students and visitors in its programming.
Check back regularly to find out about new sessions of workshops.  Registration for 2019 workshops is now available through the Manitobah Mukluks website here.  For additional information or questions, please email storyboot@manitobah.ca.
Upcoming Sessions
Coming Soon