Upcoming Ticketed Events:
Style and the Silver Screen
 Illustrated Talk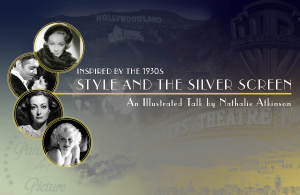 The influence of Hollywood glamour on fashion flourished during the Great Depression. Join Nathalie Atkinson, columnist for the Globe and Mail, contributor to Zoomer magazine and host of the film series Designing the Movies, for an illustrated talk about the era's silver screen stars, their costume designers, and the celebrity culture they created.
Presented as part of the programming for the exhibition WANT: Desire, Design and Depression Era Footwear.
Tuesday, February 5th, 2019 | 6:30 – 7:30pm
$20 | Free for Friends of the BSM (To reserve your seat please call 416-979-7799 x 250 or email friends@batashoemuseum.ca)
Purchase tickets online here: